Masashi Maekawa
Masashi Maekawa
Development of a protein knockdown method by bivalent DNA aptamers
Masashi Maekawa, PhD

Division of Physiological Chemistry and Metabolism, Graduate School of Pharmaceutical Sciences, Keio University
Assistant Professor
http://keio-pha-pcm.jp/index.html
Research summary
Protein knockdown is a newly-emerging and attractive method to degrade proteins of interests (POI). The method makes use of ubiquitin-proteasome pathways or autophagy pathways to achieve the degradation of POI. Although protein knockdown has various advantages from both clinical standpoints and basic research-standpoint, the method still has a couple of issues. Especially, the limited numbers of ligands for both ubiquitin ligases and POI pose a major challenge.
DNA aptamer is a single-stranded deoxyribonucleic acid (70-100 mers) that specifically binds to target molecules such as POI. The DNA aptamers have various advantages owing to its selection system, called systematic evolution of ligands by exponential enrichment (SELEX). In SELEX, the initial library pool contains 1014–1016 sequences, and thus, we are able to obtain DNA aptamers that specifically and directly bind to POI with high affinity.
In this research proposal, we hypothesized that bivalent DNA aptamers, which bridge two different DNA aptamers for ubiquitin ligases and POI, could keep ubiquitin ligases and POI closer leading to polyubiquitination of POI followed by its proteasomal degradation. To prove this concept, we used CBF1-bound DNA aptamers and SPOP-bound DNA aptamers as ligands for POI and a ubiquitin ligase, respectively. CBF1 is a transcription factor of Notch signaling that negatively regulates angiogenesis. SPOP is a substrate recognition receptor for a cullin-3/RING ubiquitin ligase complex. We develop bivalent DNA aptamers that crosslink CBF1-bound DNA aptamers and SPOP-bound DNA aptamers. As readouts, we examine SPOP-dependent polyubiquitination of CBF1 in vitro and CBF1 degradation in endothelial cells by making use of lipid nanoparticles. We aim to establish a new protein knockdown method by bivalent DNA aptamers.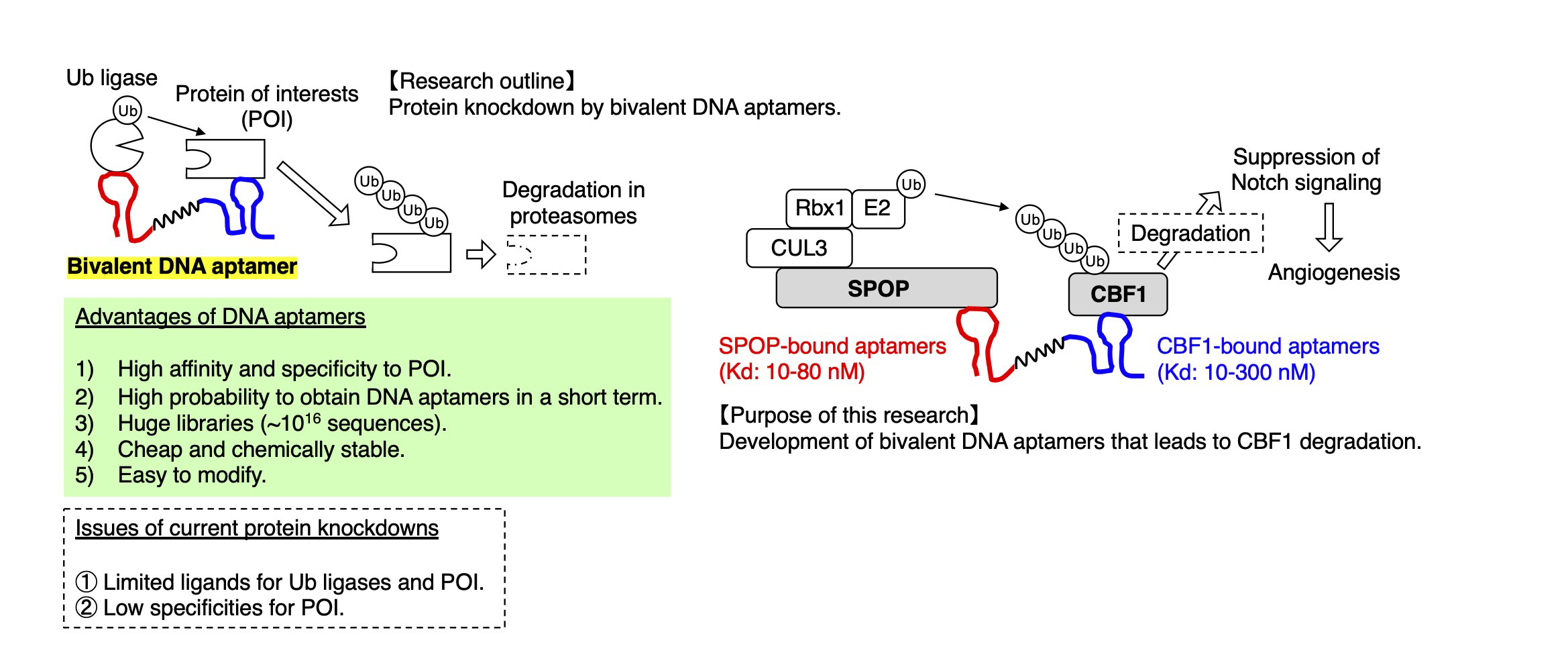 Publications
Nishiyama K, *Maekawa M (co-first), Nakagita T, Nakayama J, Kiyoi T, Chosei M, Murakami A, Kamei Y, Takeda H, Takada Y, *Higashiyama S.
CNKSR1 serves as a scaffold to activate an EGFR phosphatase via exclusive interaction with RhoB-GTP.
Life Sci. Alliance.4, e202101095 (2021)
PMID: 34187934