Hiroyuki Kawahara
Hiroyuki Kawahara
Elucidation of the preemptive quality control-specific ubiquitin receptors using chemo-technologies.
Research summary
The majority of transmembrane proteins are integrated into the endoplasmic reticulum by virtue of a signal sequence-mediated co-translational process. However, a substantial portion of transmembrane proteins fail to access the endoplasmic reticulum, resulting in the production of cytosolically mis-localized polypeptides. Their appropriate recognition and removal are of significance to avoid potential proteotoxic stress. We identified BAG6-complex for the elimination of such newly synthesized defective polypeptides. BAG6-complex is composed of ubiquitin-like protein BAG6, UBA domain protein UBQLN4, RING-finger family ubiquitin ligases, and a series of accessary proteins including UBL4. Using a model transmembrane domain protein whose degradation occurs at a pre-ER incorporation process, we show that BAG6-complex recognizes misassembled proteins in the cytoplasm for targeting to the proteasome pathway. We also suggest the exposed transmembrane segment of defective polypeptides is essential for BAG6-mediated substrate discrimination.
BAG6 complex recognized not only the defective transmembrane substrate but also Rab family small GTPases. Rab GTPases are master regulators of distinct steps of intracellular membrane vesicle trafficking in eukaryotic cells. GDP-bound cytoplasmic forms of Rab proteins are prone to aggregation due to the exposure of hydrophobic groups but the machinery that determines the fate of Rab species in the cytosol has not been elucidated. We found that BAG6 predominantly recognizes a cryptic portion of GDP-associated Rab8a, while its major GTP-bound active form is not recognized. The hydrophobic residues of the Switch I region of Rab8a are essential for its interaction with BAG6 and the degradation of GDP-form of Rab8a via the ubiquitin-proteasome system. BAG6 prevents the excess accumulation of inactive Rab8a, whose accumulation impairs intracellular membrane trafficking. Indeed, BAG6 is required for the correct distribution of Golgi and endosomal markers. We are now trying to reveal how ubiquitin receptors in BAG6 complex function in the regulation of membrane proteins quality control by using chemotechnological approach.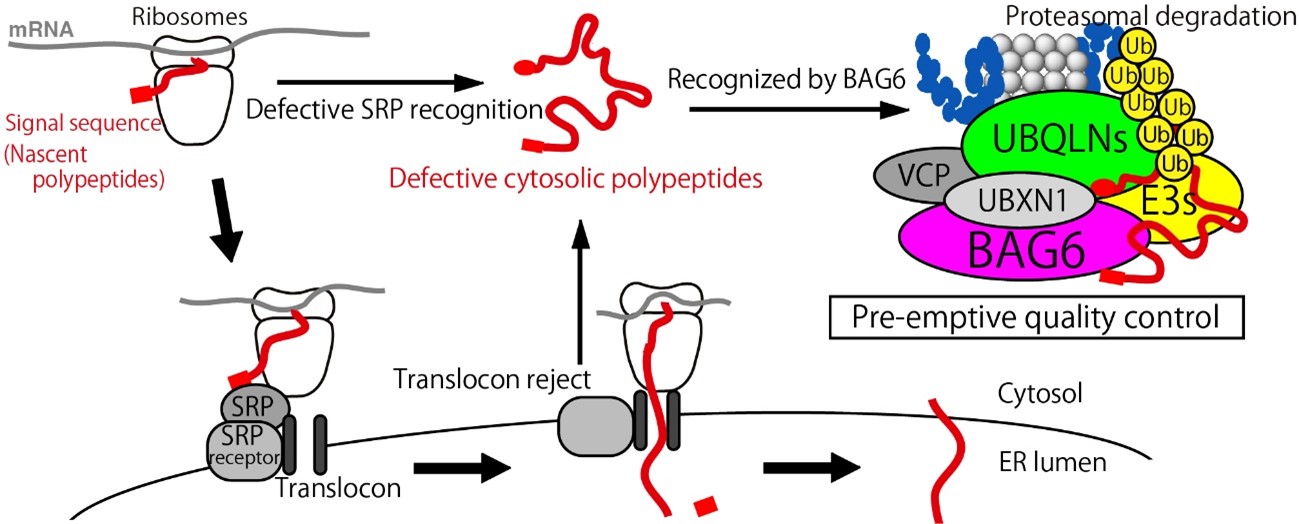 Publications
Former Publications