Shigetsugu Hatakeyama
Shigetsugu Hatakeyama
Physicochemical properties and molecular regulation of TRIM-type ubiquitin ligases
Shigetsugu Hatakeyama, MD, PhD

Department of Biochemistry, Faculty of Medicine, Hokkaido University
Professor
https://hokudai-ikagaku.jp
Research summary
TRIM family is a family of RING-type E3 ubiquitin ligases (about 70 in humans) and has been reported to be involved in various functions including the regulation of cancer, immunity, development, autophagy. The purpose of this study is to analyze the physicochemical properties of TRIM proteins as "proteins" to examine their relevance to function and to accumulate knowledge in drug discovery research in the future.
In order to elucidate the function of TRIM protein, it is first necessary to identify its substrate proteins and to determine the structure of TRIM proteins. It is important to determine the targeted TRIM protein based on biological and clinical information and the relationship with the disease, and to conduct compound screening that results in their functional changes. To that end, we will establish a method for identifying highly specific substrate proteins of TRIM proteins and ubiquitin decoders (TUBE-E3 method). At the same time, it is necessary to proceed with structural biological analysis of TRIM proteins. The E3 candidates analyzed in this project will be mainly TRIM proteins that are thought to be involved in signal transduction, selective autophagy, DNA repair and ERAD.
From the viewpoints of proteomics, structural biology, and chemical biology, the following methods will be used to accumulate basic knowledge useful for "the development of chemical tools" and "drug discovery" by promoting the analysis of target E3.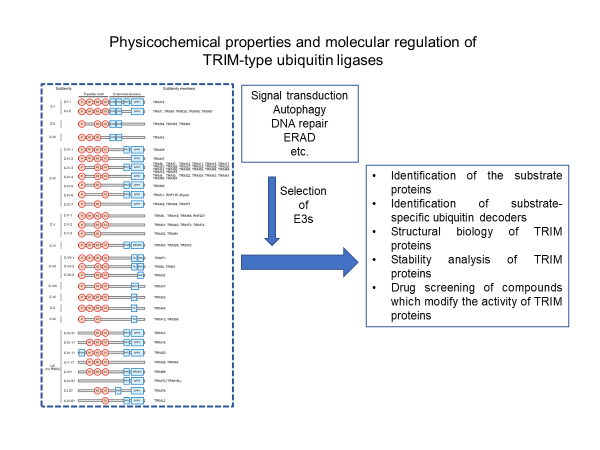 Publications
Takahashi H, Ranjan A, Chen S, Suzuki H, Shibata M, Hirose T, Hirose H, Sasaki K, Abe R, Chen K, He Y, Zhang Y, Takigawa I, Tsukiyama T, Watanabe M, Fujii S, Iida M, Yamamoto J, Yamaguchi Y, Suzuki Y, Matsumoto M, Nakayama KI, Washburn M, Saraf A, Florens L, Sato S, Tomomori-Sato C, Conaway RC, Conaway JW, *Hatakeyama S.
The role of Mediator and Little Elongation Complex in transcription termination.
Nature Commun. 11, 1063 (2020)
PMID: 32102997
Sugawara E, *Kato M, Kudo Y, Lee W, Hisada R, Fujieda Y, Oku K, Bohgaki T, Amengual O, Yasuda S, Onodera T, Hatakeyama S, Atsumi T.
Autophagy promotes citrullination of VIM (vimentin) and its interaction with major histocompatibility complex class II in synovial fibroblasts.
Autophagy 16, 946-955(2020)
PMID: 31486697
Sugisawa E, Takayama Y, Takemura N, Kondo T, Hatakeyama S, Kumagai Y, Sunagawa M, Tominaga M, *Maruyama K.
RNA sensing by gut Piezo1 is essential for systematic serotonin synthesis.
Cell 182, 609-624 (2020)
PMID: 32640190
Former Publications