Research Group
Team
Research Group
Research Group
Research group A02: Development of ubiquitin chemo-technologies
Chemical biology for controlling ubiquitin function
Protein ubiquitination has been shown to function for not only proteolytic degradation by the proteasome but also a variety of protein functional alterations, which exceed our initial assumptions. The basis for this diverse function of ubiquitination is the diversity of molecules (decoders) that interact with the structurally different linkages of ubiquitin modification. In this research (Scientific Research on Innovative Areas "Ubiquitin new frontier driven by Chemo-technologies"), we are trying to develop a new methodology to understand and regulate ubiquitin-modification systems by making full use of a chemical approach (chemotechnology). In collaboration with other members in the research group, we will develop two types of chemical tools: a new ubiquitin-targeting chimeric compounds named UbTACs and specific inhibitors for the interaction between ubiquitin chains and their decoders. UbTACs, which are developed from the basic concept of proteolysis targeting chimeras (PROTACs), are expected to introduce ubiquitin modification into particular target proteins, which may result in endocytosis and selective autophagy as well as target protein knockdown. Ubiquitin-decoder interaction inhibitors will be useful for both basic understanding of the physiological roles of specific ubiquitin modifications and novel drug discovery. We will also serve as a hub for collaboration between members in biological and chemical fields in the research group.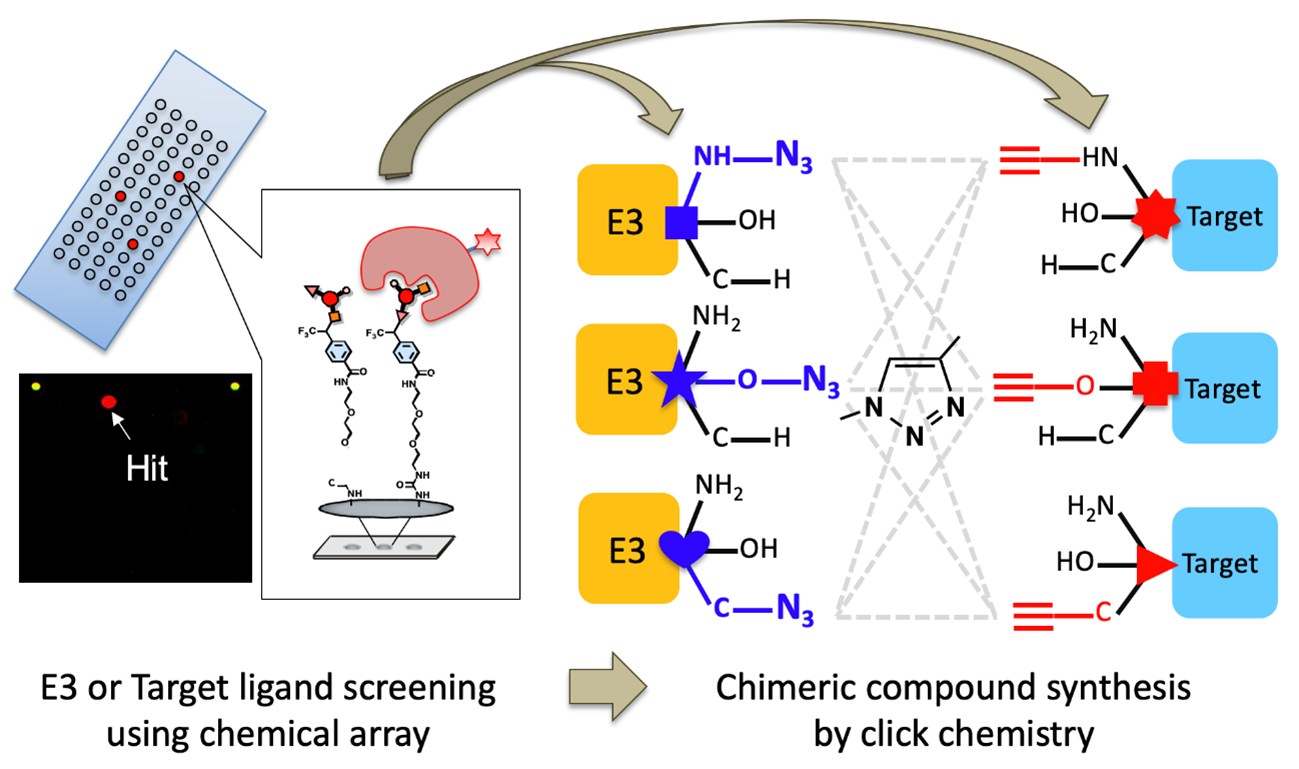 Strategy for development of novel ubiquitin-targeting chimeric compounds named UbTACs.
Chemical biology for controlling ubiquitin function: Ligand discovery for development of UbTACs
We are attempting to pioneer a new methodology to understand and operate ubiquitin-modified systems using a chemical approach (chemotechnology). This research aims to develop the tools that serve as the foundation for new methodology. The key for this research is new ubiquitination-inducing chimeric molecules, "Ubiquitin-TArgeting Chimeras (UbTACs)". Chimeric compounds called SNIPER and PROTACs ubiquitinate non-original target substrate proteins (neosubstrates) by hijacking ubiquitin ligase, followed by inducing degradation. By developing this technology, we aim to create new UbTACs molecules that can induce not only knockdown of neosubstrates but also endocytosis, signal transduction, and autophagy. In order to achieve these, it is necessary to explore new E3 ligands and neosubstrate ligands, and also to develop a technique to chimerize them. We have original chemical array technology, which enables ultra high-throughput screening of ligands for proteins of interest. The chemical array has approximately 22,000 library compounds from the RIKEN Natural Products Depository (NPDepo) immobilized on glass slides by a photo-crosslinking method. Using chemical array, we will search for novel E3 ligands and neosubstrate ligands. As second screening, the hit compounds of the chemical array screening will be analyzed using two-dimensional SPR or Biacore and candidates will be narrowed down based on binding affinity (Fig. 1). Finally, we are going to identify functional groups of explored candidate compounds available for chimerization through structure-activity relationship studies.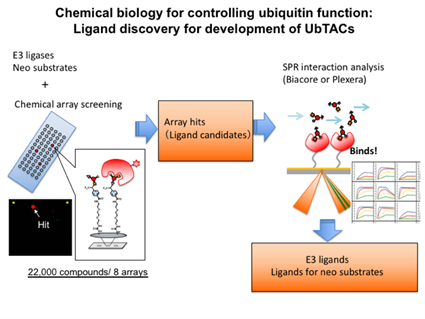 Chemical biology for controlling ubiquitin function: Development of UbTACs by utilizing click chemistry
Ambara Rachmat Pradipta

Tokyo Institute of Technology, School of Materials and Chemical Technology,
Department of Chemical Science and Engineering
Assistant Professor
http://www.apc.titech.ac.jp/~noritanaka/
Ubiquitin-targeting chimeras (UbTACs) is an approach to catalyze the ubiquitination of substrate proteins to trigger various cellular outcomes. We aim to design the UbTACs that comprise of a novel E3 ubiquitin ligase ligand conjugated via a linker to a neo-substrate protein-ligand. To develop potent UbTACs, we need to examine the structure-activity relationship of these bispecific molecules. Herein, the click reaction will be utilized to couple the novel E3 ubiquitin ligase ligands and neo-substrate protein ligands. The click reaction of azides and alkynes to form a 1,2,3-triazole ring, which arguably is one of the most reliable bonds forming reaction, is easy to use and can be performed under mild reaction condition. We will prepare the azide-linker and alkyne-linker derivatives, which would allow for the parallel synthesis of the UbTACs library.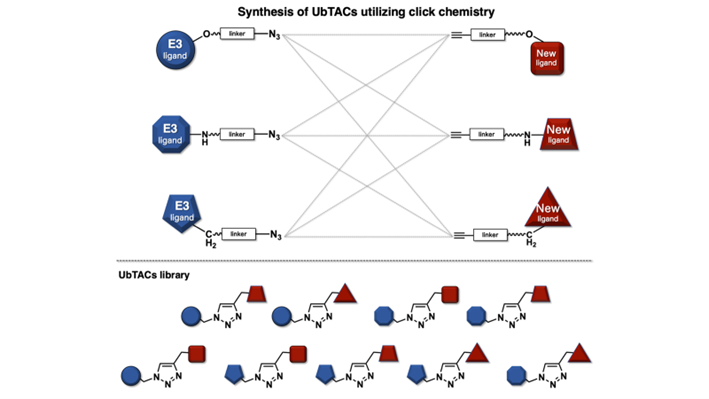 Publications
Former Publications
Nishimura S, Arita Y, Honda M, Iwamoto K, Matsuyama A, Shirai A, Kawasaki H, Kakeya H, Kobayashi T, Matsunaga S, *Yoshida M.
Marine antifungal theonellamides targets 3ß-hydroxysterol to activate Rho1 signaling.
Nat. Chem. Biol. 6, 519-526 (2010)
PMID: 20543850
Hirohama M, Kumar A, Fukuda I, Matsuoka S, Igarashi Y, Saitoh H, Takagi M, Shin-ya K, Honda K, Kondoh Y, Saito T, Nakao Y, Osada H, Zhan KY, Yoshida M, *Ito A.
Spectomycin B1 as a novel SUMOylation inhibitor that directly binds to SUMO E2.
ACS Chem. Biol. 8, 2635-2642 (2013)
PMID: 24143955
Arita Y, Nishimura S, Ishitsuka R, Kishimoto T, Ikenouchi J, Ishii K, Umeda M, Matsunaga S, Kobayashi T, *Yoshida M.
Targeting cholesterol in a liquid-disordered environment by theonellamides modulates cell membrane order and cell shape.
Chem. Biol. 22, 604-610 (2015)
PMID: 25960262
Ito A, Shimazu T, Maeda S, Shah AA, Tsunoda T, Iemura S-I, Natsume T, Suzuki T, Motohashi H, Yamamoto M, *Yoshida M.
The subcellular localization and activity of cortactin is regulated by acetylation and interaction with Keap1.
Sci. Signal. 8, ra120 (2015)
PMID: 26602019
Kondoh Y, Honda K, Hiranuma S, Hayashi T, Shimizu T, Watanabe N, *Osada H.
Comparative chemical array screening for p38γ/δ MAPK inhibitors using a single gatekeeper residue difference between p38α/β and p38γ/δ.
Sci. Rep. 6, 29881 (2016)
PMID: 27431267
Sun X, Hirai G, Ueki M, Hirota H, Wang Q, Hongo Y, Nakamura T, Hitora Y, Takahashi H, Sodeoka M, Osada H, Hamamoto M, *Yoshida M, *Yashiroda Y.
Identification of novel secreted fatty acids that regulate nitrogen catabolite repression in fission yeast.
Sci. Rep. 6, 20856 (2016)
PMID: 26892493
Nakaoka S, Sasaki K, Ito A, Nakao Y, *Yoshida M.
A genetically encoded FRET probe to detect intranucleosomal histone H3K9 or H3K14 acetylation using BRD4, a BET family member.
ACS Chem. Biol. 11, 729-733 (2016)
PMID: 25946208
Takase S, Kurokawa R, Arai D, Kanemoto Kanto K, Okino T, Nakao Y, Kushiro T, *Yoshida M, *Matsumoto K.
A quantitative shRNA screen identifies ATP1A1 as a gene that regulates cytotoxicity by aurilide B.
Sci. Rep. 7, 2002 (2017)
PMID: 28515454
Yoshimoto R, Kaida D, Furuno M, Burroughs AM, Noma S, Suzuki H, Kawamura Y, Hayashizaki Y, Mayeda A, *Yoshida M.
Global analysis of pre-mRNA subcellular localization following splicing inhibition by spliceostatin A.
RNA 23, 47-57 (2017)
PMID: 27754875
Piotrowski JS, Li SC, Deshpande R, Simpkins SW, Nelson J, Yashiroda Y, Barber JM, Safizadeh H, Wilson E, Okada H, Gebre AA, Kubo K, Torres N, Leblanc MB, Andrusiak K, Okamoto R, Yoshimura M, van Leeuwen J, Shirahige K, Baryshnikova A, Brown G, Saito T, Costanzo M, Andrews B, Ohya Y, *Osada H, *Yoshida M, *Myers CL, *Boone C.
Functional annotation of chemical libraries across diverse biological processes.
Nat. Chem. Biol. 13, 982-993 (2017)
PMID: 28759014