Research Group
Research Group
Research Group
Research group A01: Elucidation of ubiquitin functions by chemo-technologies
Deciphering the ubiquitin code by mass spectrometry and chemo-technologies
The diverse functions of ubiquitin can be attributed to the structural diversity of ubiquitin modifications with distinct topologies, called the 'ubiquitin code'. We have contributed to ubiquitin research in Japan by identifying critical ubiquitin chain decoders upstream of proteasomal degradation and developing methods to analyze ubiquitin chain length. However, due to the complexity of ubiquitylation, we do not yet know the overall picture of how the ubiquitin code determines the function and fate of substrate proteins.
In the planned research, we will introduce advanced proteomics methods to this research area, and by a combination with newly developed chemical tools, we will investigate the higher-order architecture of ubiquitin chains, which is the basis of the ubiquitin code, and decoding mechanism by ubiquitin-binding proteins in major ubiquitin-dependent pathways.
1. Development of advanced ubiquitin proteomics methods
Using the most advanced mass spectrometry, we will introduce state-of-the-art proteomics analysis methods to ubiquitin research in Japan. Specifically, we will establish methods such as TMT labeling for comprehensive identification of ubiquitylated substrates, cross-linking analysis for analyzing ubiquitin decoders, and intact mass analysis for higher order structure of ubiquitin chains.
2. Elucidation of the decoding mechanism of the ubiquitin code
We will elucidate the decoding mechanisms for major ubiquitin-binding proteins by a combination of advanced proteomics methods and chemical tools that inhibit the interaction between the ubiquitin chain and the ubiquitin-binding protein. In addition, using chemically synthesized ubiquitin chains, we will search decoder molecules that discriminate higher-order structures of ubiquitin modification.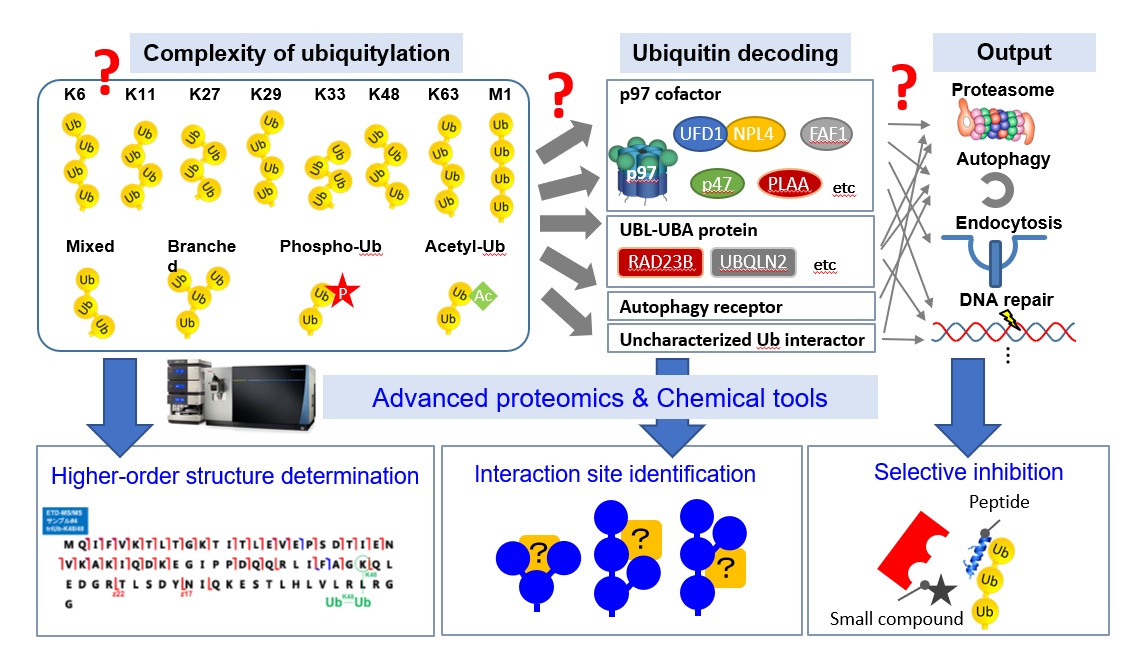 Publications
Former Publications