Research Group
Team
Research Group
Research Group
Research group A02: Development of ubiquitin chemo-technologies
Development of chemical protein knockdown technologies and their application to manipulate cellular functions
We have established chemical protein knockdown technologies that utilize compounds such as SNIPERs (Specific and Nongenetic IAP-dependent Protein Erasers) and cereblon (CRBN) modulators
(also known as IMiDs immunomodulators) to induce ubiquitylation and proteasomal degradation of target proteins in cells. SNIPER is a chimeric compound consisting of a ligand (IAP antagonist) that binds to an IAP and a ligand (molecular warhead) that binds to a target protein, which induces ubiquitylation by recruiting an IAP ubiquitin ligase to the target protein. It is a highly versatile technology that can target and degrade various target proteins by replacing molecular warheads. The CRBN modulator, on the other hand, is a compound that binds to CRBN, the substrate recognition molecule of CRL4CRBN ubiquitin ligase, and modulates its substrate specificity. These compounds have recently been shown to be able to induce various cellular responses involving ubiquitin, including not only degradation but also internalization of receptors on cell surface.
In this study, we are challenging to elucidate the principle of the ubiquitin code by using chemical protein knockdown technologies to ubiquitylate various target proteins and analyze the cellular responses, which includes the following subjects.
1. Development and expansion of SNIPER technology
2. Analysis of ubiquitin coding mechanism using SNIPER and other compounds
3. Development of the CRBN modulators and the mechanism of teratogenicity and therapeutic effect
4.Structural analysis of E3 ligase and neo-substrate complexes formed by SNIPER
5. Development of mitophagy induction technology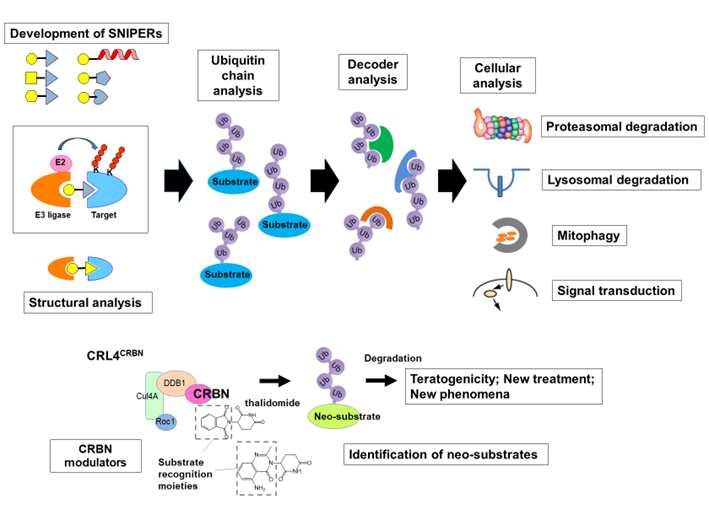 Publications
Former Publications